Welcome to Africa's Jewel of the Lake
*Che's Bay* offers a wide array of beach and water fun activities that include boat cruises, swimming , kayaking tug-of-war, mountain hikes and beach fitness (Zumba)Ksh 12,000 for groups and sport fishing Ksh 8,500 (two pple) and 5 pax for Ksh 15,000.

We host camping expeditions and events including retreats, team building & bonding, birthday and graduation celebrations, weddings, receptions and photoshoots.
Our makuti style *Palm Beach Lounge* is a perfect chill-spot for a cool drink and relaxing music, with a DSTV wired giant screen for sports, news and entertainment.
Our *Larisa Kids Haven* is equiped with a children's pool and giant slide, bouncing castle and trampoline, guranteeing the young ones some real fun.
Our *Sailor's Beach Cabins* provide accomodation
*Single*(one)
Bed and breakfast Ksh.4,900
Half board Ksh.6,400
Fullboard Ksh.7,900
*Sharing* (2pple)
Bed and breakfast Ksh7,900
Half board Ksh9,900
Full board Ksh 12,900
*Family/double cabin*
Bed & breakfast 9,900
Half board Ksh 15,900
Fullboard Ksh 21,900
We also run a tented camping service.
*PALM BEACH CAMPING TENTS*
*FAMILY TENT*
*Single*(One)
Bed and breakfast Ksh 4,500
Half board Ksh 5,900
Fullboard Ksh 7,200
*sharing*
Bed and breakfast Ksh 7,900
Half board Ksh 9,900
Full board Ksh 12,900
*SINGLE*
Bed and breakfast Ksh 3,000
Halfboard Ksh 4,500
Fullboard Ksh 5,500
*SHARING*
Bed and breakfast Ksh 4,900
Halfboard Ksh 6,900
Fullboard Ksh 8,900
Boat cruises range from Kshs 3000 to 6500, depending on type of vessel and distance. Self-rowed kayaking boats are 1000 each. Guided mountain hikes are Kshs 3000 per hike. And much more.
All Services reserved attracts 50% on cancellation.
Pay bill 7409573
Account no.2
We would be happy to host you here for a memorable experience.
Welcome to #SafeHarbour❤ the #JewelofLakeVictoria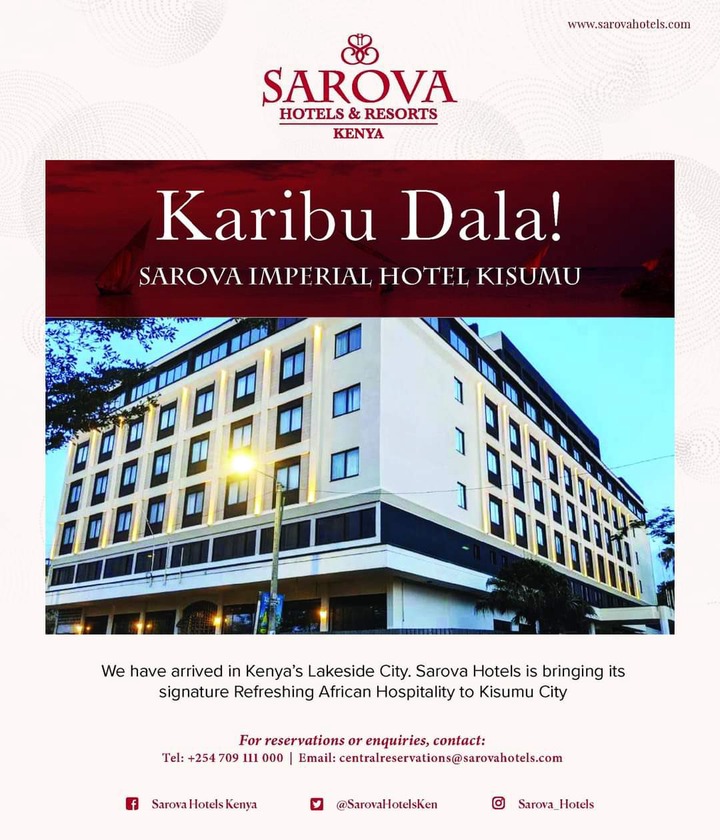 12511
1
0
cookie-check
CHE'S BAY RESORT: PERFECT HONEYMOONERS HIDEOUT