An apprehensive calm has returned to the city of Nairobi following a hectic day of running battles between police and demonstrators.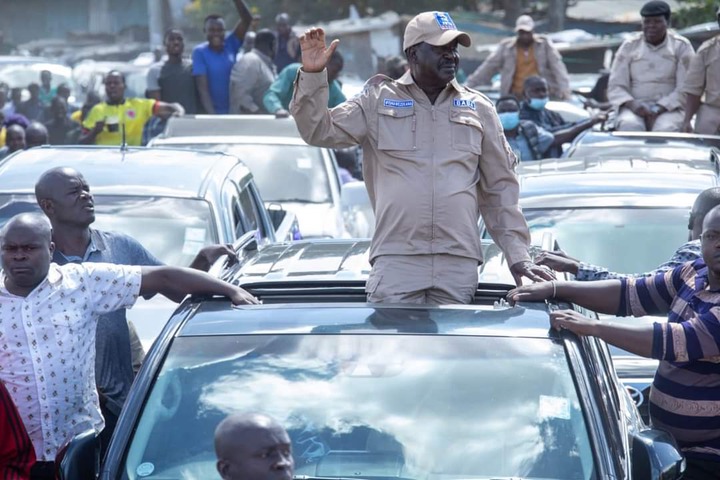 Raila's attempts to enter Nairobi CBD were repeatedly thwarted.
Although the government declined to acknowledge Raila Odinga's declaration of a public holiday, it was more or less just that. Businesses and schools which dared to open in the city of Nairobi were run at a timid half-closed pace.
Notably, the Government through the Office of the Deputy President admitted that by noon it had lost close to KES 2 billion of revenue owing to the mass action. Deputy President Rigathi Gachagua, speaking from Mombasa pleaded with the organizers of the Maandamano to call it off in the afternoon. Nobody heeded his calls.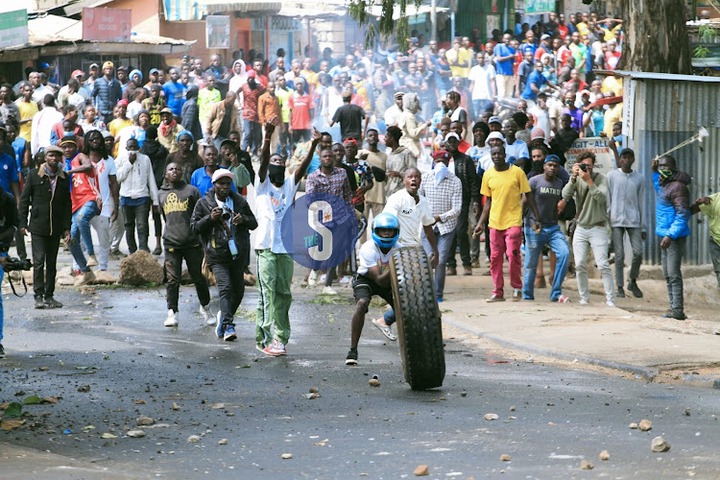 Kibra slums sent a strong message that Kenyans are hurting from the cost of consumables, especially maize floor. Photo Courtesy of NMG.
Around noon there was a flash of drama when ebullient Mumias East MP Peter Salasya was captured on video slinking off when he realized that the police were intent on arresting Suna East MP Junet Mohamed. Dressed in casual youth attire Salasya is seen on a video clip that has gone viral slinking into the background and when he realized nobody had noticed him he outright bolts away.
While the novice Salasya had good reason to run (it is his first time to confront police during a protest) for over 20 other legislators it was time to stand up and be counted. First, they followed their arrested colleagues into Central Police Station.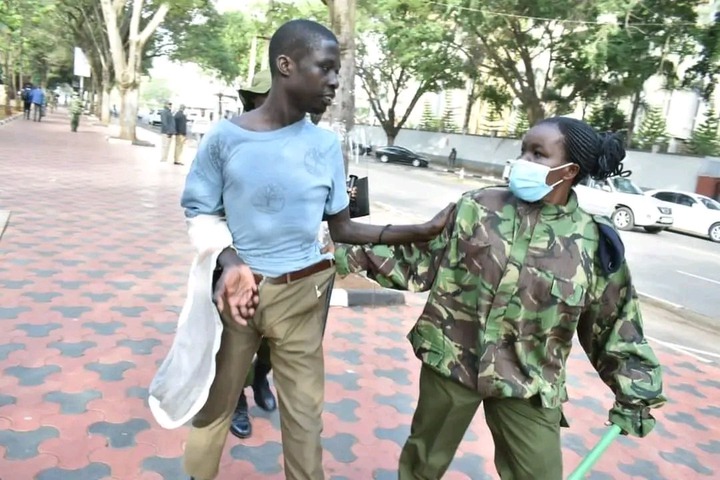 The police were particularly restrained.
The leader of the Minority in the National Assembly James Opiyo Wandayi and the Leader of the Minority in the Senate Stewart Madzayo were arrested on Wabera Street. The police drove them to Central Police Station but when an unexpectedly huge number of legislators turned up in solidarity with their arrested colleagues it was the turn of the police to change tact. They were stealthily removed from the station and transported to Kiambu Police Station.
The highlight of police strategic success was when Raila joined the mass action only to find his troops scattered, some in cells, others in Kiambu Police Station addressing the media.
It was easy to contain Raila's entry with two water cannon tankers placed strategically on Valley Road. Raila had intended to gather his troops, so to speak, at a press briefing within Serena Hotel. He was not accorded that luxury today as police maintained their ground, blockading his entry into the CBD or access to Uhuru Park.
For the next three-and-half hours, Raila's entourage would take the police on a game of hide and seek at the periphery of the central business district. Raila managed to address demonstrators at Eastleigh before police disrupted the meeting when they lobbed teargas on the crowd as Kalonzo Musyoka was speaking.
A few minutes after six Raila's entourage was seen making its way out of the city of Nairobi towards Kiambu.
Within one day Raila had succeeded to alert the international community including foreign media that all was not well in Kenya. At one point police appeared overwhelmed and ran helter-skelter. But they too deserve to be commended for exercising restraint.
Apart from the ugly confrontation between legislators and the OCS at KICC, the police behaved fairly well (often running away from demonstrators) to avoid confrontation or force.
Like in the 1989 Chinese Tiananmen Square protests, though, there always are outstanding heroes and heroines that cannot pass without mention. The image of a scantily-dressed woman approaching a police vehicle and baring her chest to the armed officers and when nobody seems to pay attention to her, climbing atop a police vehicle will take time for Kenyans to forget.
Contrary to the expectations of his diehard supporters Raila did not overrun the State House. He did not as much as get a chance to move close enough to be of any substantive threat. Yet he succeeded in activating negative sentiments of the slum inhabitants against the government of President Ruto.
At the end of the day, it was apparent that the demos transcended race, tribe, or class. It was an emphatic statement that Kenyans from all walks of life are hurting. How much longer president Ruto is willing to hold out remains to be seen on consecutive Mondays' Maandamano.
28334
0
0
cookie-check
HITS AND MISSES OF RAILA'S MAANDAMANO